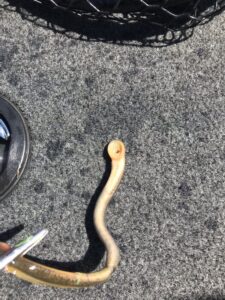 According to Craig Roberts a Fish Biologist with the DNR, the picture on the left is of a native chestnut lamprey that was caught on the Minong Flowage in May of 2021. They are common in river systems and are not anything to worry about.
Craig Robert – Fisheries Biologist-Sen Wisconsin DNR
Facebook link to the 2016 Governor's Fishing Opener on the Minong Flowage
2016 Minong Flowage Fisheries Survey
2005 DNR – Minong Flowage Fish Survey Report
The Flowage has quite a variety of fish including walleye, northern, crappie, bluegill, small and largemouth bass.
Fishing License Can Be Obtained Online at the Wisconsin DNR Website or in Minong at the Sportsman's Headquarters or Stop-a-Sec located at the intersection of County Road T and County Road I.